High View Farm

does not offer trail riding or public rentals.
We do not offer same day scheduling. We focus on weekly scheduled horseback riding lessons to develop your riding skills.
At High View Farm we use a multidisciplinary approach to teaching; encouraging riders to try many different things. We believe riders should be given the opportunity to choose what path their riding takes rather than just ride whatever discipline their stable offers. We start all riders off with basic balanced seat english riding and allow them to branch off from there into whatever discipline appeals to them. We have found that the horses benefit from this approach as well. Finding where a horse's aptitude lies and training to those strengths will make for happy horse/rider combinations. Over the years we have been successful using this approach with multiple breeds across many disciplines, including Hunters, Jumpers, Dressage and Eventing, Western Pleasure and Horsemanship, Team Penning and Sorting, Trail and Versatility. No matter what your goals are be it showing or just riding for fun we strive to help all riders become capable horsemen and women.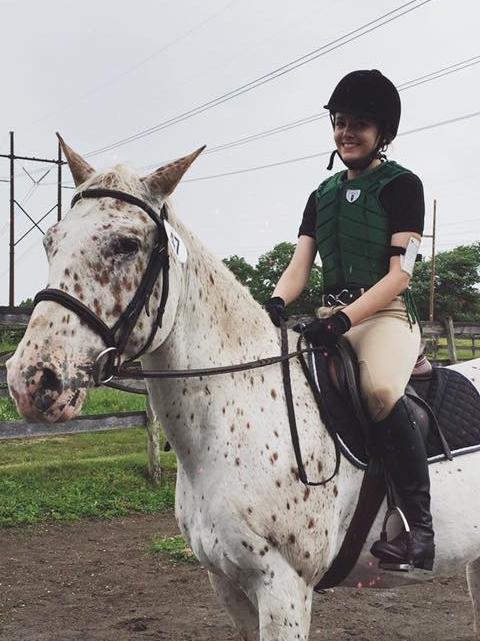 5/2/2023- Summer Riding Program is back! Go to the Summer Riding Program page for information and application.

​
6/12/16 - Yesterday was a double show day. Talia Martin and Carol Mayer were off to Azrael Acres Horse Trials while Brittany Mayer took our High View Medal riders to the Hanover Hunt Club show to chase down those points to qualify for finals in October. Congrats to April B. and Ciara O. on finishing qualifying and to Julia for her 3rd, she is half way there. Back at the Azrael Acres show Jen D. on Moon had a great eventing debut coming out of dressage tied for first. A problem in stadium eliminated
the pair but it was a great learning experience for Jen. Clean over her first cross country course she is eager for more. Finishing first in her division is now qualified for the Area 1 Schooling Horse Trials Championships at Apple Knoll Farm in August! Congrats Kayla. Jessi C. aboard Aladdin had a good day showing great stadium improvement and has gained a point towards her quest for the Area 1 championships. Great day although a bit wet for the whole HVF show crew. Next weekend-South Shore!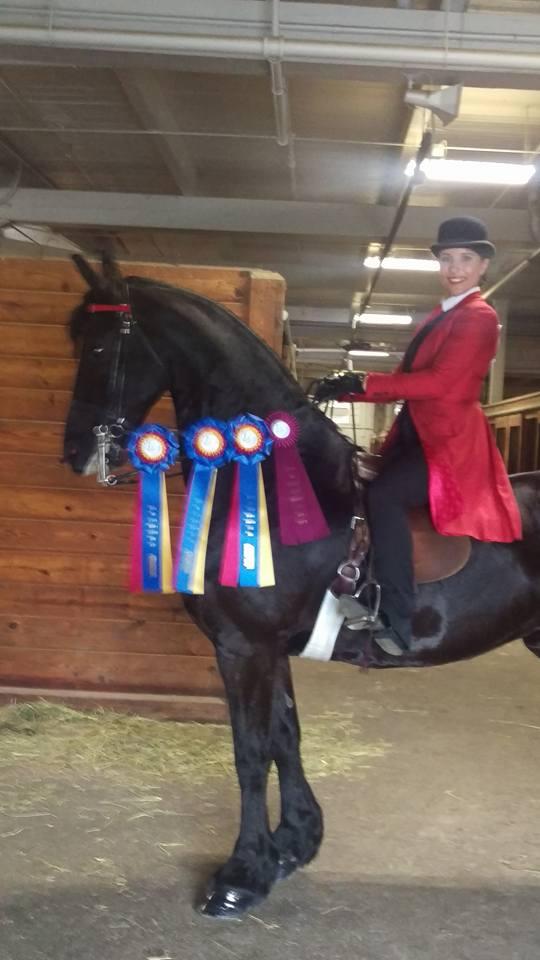 6/10/16 - Ira had a very successful IFSHA Regional Show last weekend in Springfield. Region 1 champion Friesian Trail Western, Western Pleasure and Saddleseat Pleasure. Top 5 ribbon in Friesian Show Hack after pushing the envelope a little too much with an extended trot break in the middle of a class that was going VERY well so we are on the right track on our journey towards the Friesian World Show in October. Stay tuned as his season progresses. Mary Smith made her debut in the Friesian Show ring and although she didn't come home with ribbons we are off to a promising start. Go team Ira!